"ORIGINS" Wave Twisters 0̸ (B Side Digital Album) uncensored tracks #6-10 from the vinyl version!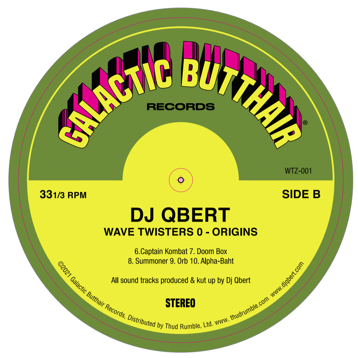 Part 2!!!
We go waaay back in time to hear the origin adventures for these exciting characters from the Wave Twisters inner space universe!!!
6. Captain Kombat
Aka Activator X
Front line MC activist against evil. Soon discovers special truth glasses that let him see that his people were all just being tricked, divided and led to consume unhealthy foods from the company "Fresh" which keeps their minds closed and teeth dirty. Vows to free all enslaved planets & end tooth decay.
7. Doom Box
Aka Master View
Made from the confiscated parts of boom boxes, and dj gear. This giant robo has the power to manipulate and weaponize sound with it's huge speakers. It can see far and through walls, identifying all lifeforms, warning the evil worms of potential threats. 
8. Summoner
Aka Lord O.O.K. (Out Of Kontrol)
Evil worm pirate using a baby as it's host. Summons creatures into existence for use as puppets in power & media to hypnotize the masses, keeping a population uncreative so they never ascend. The planet becomes a giant farm for the worms to consume.
9. Orb
Aka Boog-a-Loogie
Huge non contagious smiley virus summoned into existence by Lord OOK, whose conjuring device was accidentally aimed at some throw-up. Later Orb becomes "Most Up" tagger because of his semi-invisibility. He wears his crown proudly. 
10. Alpha-Baht
Aka Sine Language
Stolen translator droid that gets booted up for the first time and begins to recite random letters in different languages. His hand signs for the hard of hearing are so exaggerated that he invents many Tutting moves just by speaking.


Credits:
All thanks to God, and you the fader fans!
Manifested by QB
Track 1. Co produced by DJ Hard Rich
Track 2. Beat by DJ IQ Handroids
Addition Production: Hector Delgado (ASAP) on Dreamz 
All skratching and all other tracks Produced by QB
All tracks mixed by Malicious Lee
Megasonic and QB
Art by @morningbreathinc
Management team:
Kendo@thudrumble.com
Yogafrog@thudrumble.com
Charles@thudrumble.com
Aya@thudrumble.com
Booking:
Info@thudrumble.com
gigs@thudrumble.com